Research Centre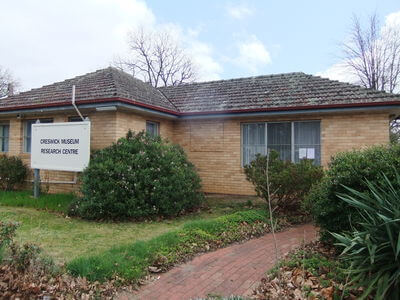 As a precautionary measure amid the Coronavirus outbreak Creswick Museum has temporary closed the Research Centre until further notice. At this stage the Committee has not decided on a re-opening date but when a decision is made will post it on this site and our Facebook page. Anyone requiring research can contact us by our email info@creswickmuseum.org.au supplying information required.
Was your family from Creswick, Smeaton, Kingston or surrounding district? Are you looking for information what the area was like when they lived in the area… why not visit the Research Centre?
Located on the corner of Raglan St and Cambridge St, Creswick VIC 3363
(in the old Infant Welfare Centre)
The Research Centre is a 'keeping place' for items relating to Creswick Borough and Shire, history and development. This includes a place for the storage of minute books and other paper materials relating to the various organisations which have and do operate in the community. The museum has digitised "Creswick Advertiser" from 1860 to 1972.
Types of items included in the collection.
Maps
Books
Photographs
Newspapers (Creswick Advertiser digital copies)
Documents / journals / minutes books / scrap books
Primary source material for family history research
Church Records
The museum has digitised it's collection of photographs and offers a fee based photographic reproduction service.
Hours of opening
Friday & Saturday 11am to 3pm. ​
.
Fees apply
In person visit to Centre cost $10.00
Written request $30.00 per request
Bank account details 633-000 Account 172541963
Submit your Research Request via our Contact form.